It's beginning to look a lot like Christmas... in Edgartown! This annual holiday celebration has become one of the island's favorite traditions, offering a chance to spread holiday cheer and experience the charm of Edgartown in the winter. With an abundance of activities - the lighting of the Edgartown Lighthouse, Photos with Santa, Horse & Wagon Rides, the Great Chowder Contest, a festive parade, shopping, sales, charity events and so much more - there's no better place to be on December 10th-13th than right here in Edgartown!
We will, once again, be teaming up with Sandpiper Rentals to host an Open House Tour with several downtown (and a few nearby Katama) homes available for sale and rent. Whether you're interested in purchasing an island property or just want to explore some vacation rental opportunities, this is a great chance to enjoy a stroll through town--with some refreshments along the way!--while you visit a variety of fabulous properties.
Our Open House Tour will take place this Saturday, December 12th from 11:00 AM to 1:00 PM. Scroll down for a map of the tour and some information about the homes included. We hope to see you there! If you questions, be sure to contact us.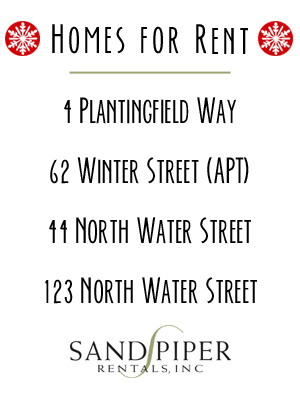 Homes for Sale:
37 Cooke Street
. . .
45 Cottage Street
. . .
5 Cottle Lane
. . .
7 Scrub Oak Drive
. . .
24 Katama Bay View Road
---
Homes for Rent:
4 Plantingfield Way
. . .
62 Winter Street (Apartment)
. . .
44 North Water Street
. . .
123 North Water Street
Come visit any (or all!) of these excellent properties on
Saturday, December 12th from 11:00AM - 1:00PM
at the Christmas in Edgartown celebration!